Hey there,
This installment of Tchez game reviews will be based around the latest Lara Croft game, Guardian of Light. Guardian of Light was released on the 18th August 2010, for download only through Xbox or Playstation 3.
Firstly I must say that I was slightly skepticle about buying this game after watching the trailers. The game has taken a sudden change of view and is based on a aerial camera view, completely changing the way the player looks at and interacts with the game. Originally I thought this had disaster written all over it, but after a mere few minutes of playing I could see it was anything but.
Guardian of Light has kept the same values of the previous Lara Croft installments, basing it around puzzle solving and minion killing, but given a slight twist on the collection of items and weapons. The game functions on a point system, giving the player points for solving secret tasks, or killing multi enemys in a small amount of time. Before the start of a level the player is given a series of tasks to complete for rewards, these rewards consists of weapons, relics, and artifacts. For me personally relics and artifacts make the game so much more exciting for the player, as if turning the game into an RPG. The relics offer the player a bonus of speed/power/defense/bomb power depending on which one you choose, where as the articfacts offer a change of weapon fire such a scatter shot, power bullets, power bombs, bouncing bullets etc. It is then up to the player to decide which one of these are most suited for the situation.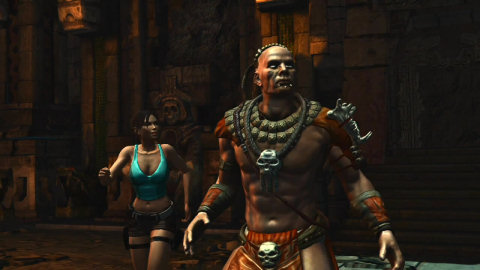 Another great part to this game is the recently introduced co-op play. It allows two players on the same console to join forces with Lara and a new character named Totec. This is the first time in Lara Craft history that two players can work together to solve puzzles. I personally love the way they have integreated this into the game, bringing a whole new level of challenge to the game.
Overall I believe this basic yet addictive game was a great purchase. For only £9.99 through the playstation store I'd recommend any to give it a go.
Tchez